History
First Generation Map of UD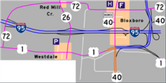 On 6/26/2011, Alex (TwentyTwoPilots) began to make maps for the UD Games - the map was first shown in Ultimate Driving I v1.4 (which is a legacy game created by TwentyTwoPilots). This map looks very different from the UD map of today, as you can see in the pictures.
Second Generation Map of UD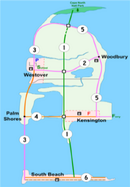 On the same day that Ultimate Driving I v1.4 was released, UD: Westover Islands came out and the second-generation map came with it. Also, the red square that points out your location was added. UD: Odessa used to have the same map as UD: Westover Islands.
Third Generation Map of UD
When TwentyTwoPilots decided to revamp his games, the maps changed. In Westover, the junction between I-76 and I-95 changed, Routes 4 and 5 were replaced by US 40 BUS, Route 3 was removed. Cape Henlopen State Park was expanded. US 17 and most of South Beach were replaced by an empty Route 12. Bordenville expanded and Bordenville Beach State Park was removed. Cape North State Park became Cape Henlopen State Park,
4th Generation Map of UD
Cape Henlopen could now be entered using US-40 (Costal Highway), A new exit was added at Cape Henlopen. The Woodbury Pit Stop was replaced with an old barn. The exit near Woodbury on the I-76 was removed. Some land at Kensington Ferry Terminal was removed and is now water.
5th Generation Map of UD (CURRENT VERSION)
TwentyTwoPilots decided to revamp the minimap and the minimap GUI with a brand new system. Now you can add share your location with players on the minimap. You can also pin-point a location on the minimap. Kensington Beach Dunes and Mount Astley State park has been added to the minimap of UD: Westover Islands. Minimap Letter locations have been removed and replaced with new mini-map icons for major locations (Police Station, Gas Station, etc). This is the current map.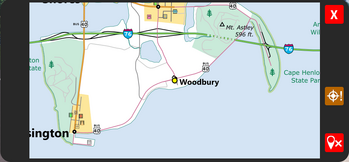 All game maps
Legend
Unshaded = part of the game
Shaded = not part of that game, but is part of another
Notes
The maps shows only games that are fully released. Any games that are in beta will not be mentioned on this table.
Game Maps (Note: We're currently unable to update the Westover Map with newer image tiles of the map, since this is all we have for now.)
UDU Map Website
There is also a website that shows the whole map of the UDU. Shown here. Although, the website is outdated so none of the routes/cities won't be accurate to the current version of the minimap. Some of the states on this website are currently dead at the moment.
New England 'States' (Unknown)
Florida (Dead)
Illinois/Indiana (Illinois has very tiny bits in Pleasant Valley. BUT STILL DEAD KID)
Iowa (Pleasant Valley is rehosted, but the game is broken at this time and never comeing back.)
Delaware
Maryland (Being worked on)
Virginia (Being revived by Index15.)
The Carolina's (South Carolina will be worked on in the future.)
Georgia (Being worked on)
New York (Will be worked on in the future.)
Canada (Dead)
Minimap Overhaul
According to the Trello, TwentyTwoPilots is expected to overhaul all current minimaps of UDU games. This will include navigational features, a GPS in-general to direct you to any location you actually choose. Players can also view other player team members such as Police, Fire/EMS, etc. POIs will also be added for locations on the map.
On 11/14/2020, the minimaps have received a massive overhaul which includes adding anonymous markers for other players on the map for your team. Police officers are able to see map markers for all players near another police officer or traffic camera. New navigation controls have been added by pinpointing and following the green beacon you have made. Phase 2 has been sort of released and included more new minimap feature such as sharing your location to friends or to taunt police.
Trivia
All the game minimaps can be found all in one by scrolling up, down, left or right.
UD: Currituck will not get a minimap update until the overhaul/expansion is done.
Westover and Odessa got minimap updates during the Racing Update on August 10th, 2018.
When Pleasant Valley was released, a minimap wasn't made for the game, so index15 improvised a minimap and they can be found in all cities/towns.
As part of the Minimap Overhaul, all the game minimaps will be updated.
On 11/14/2020, UD: Westover Islands received the first features added for the Minimap Overhaul. On 11/21/2020, all other UDU games received phase 2, as well as phase 1 for the Minimap Overhaul where we saw more minimap features get added.