Overview
US-40 is a US-Highway in the Ultimate Driving Universe. It currently stretches across three games (Westover, Odessa, and Newark) and is one of the only 2 roads to do so. The whole route is about 25 miles (40 km) long, including the concurrency with I-76, with the section from Nomtauk, New York to the UD: Odessa - UD: Newark border playable.
US-40 starts in the tiny hamlet of Nomtauk where it is concurrent with I-76. US-40 heads down the HBBT then gets to the Angler Island Wildlife Refuge and heads west. Then it gets to the Cape Henlopen State Park where the concurrency with I-76 ends. US-40 heads to Westover on a two-lane road, intersecting US-40 BUS on a traffic circle. US-40 continues until it crosses a bridge into Westover where it turns into a divided highway. US-40 goes through Westover then crosses a bridge into Palm Shores. US-40 goes through the center of the city, intersecting US-40 BUS then heading to the Westover Sound. It then hits dry land intersecting DE-12, and heads to Bordenville. US-40 goes through Bordenville then hits I-95. US-40 then passes the Hospital for UD: Odessa, intersecting US-1 and going across farmland on the way to Newark. When US-40 gets to Newark it goes south of downtown then intersects I-476. US-40 then intersects the new DE 7 before reaching its western terminus.
History
W.I.P.

Speed Limits
Major Intersections
From east to west:
District/City
Connecting Route(s)/Destinations
Notes
Harriston
I-80/Harriston
Eastern (northern) end of I-76 concurrency

End of US-40

Cape Henlopen State Park
I-76/Newark
Western end of I-76 concurrency

Not turning at the eastbound entrance will enter a parking lot

Access to I-76 West was formerly through a tunnel

Westover
US-40 BUS/Woodbury, Kensington
Traffic circle
Westover
Chestnut Road/Woodbury
Formerly DE-3
Westover
Westover Transit Hub
The exit for the Transit Hub, the entrance is on Chestnut Road
Westover
Doe Run Road
Eastbound right-turn lane is a ramp
Palm Shores
US-40 BUS (Kensington Road)/Kensington, Kensington Port
Eastern end of US-40 Causeway
South Beach
DE-12/South Beach
Former west end of route

Traffic signals removed, intersection narrowed

Bordenville
DE-72 (Red Mill Road)/Red Mill Crossroads, Bordenville, Cape Ann
Bordenville
I-95/Odessa, Lancaster, Harriston
Bordenville 
US-1 (Odessa Pike)/Springfield, Odessa
Newark
Access to MD-781
Newark
DE-896 By-Pass/Elk Mills, Cape Ann
Southbound access
Newark
Second Avenue

Start of split section

Separate traffic lights for each direction

Newark
DE-896 North (Third Street)/ Cape Ann

Northbound DE-896 only

Traffic lights are in sync with each other, controlled by one box

Newark
DE-896 South (Fourth Street)/Elk Mills, Maryland
Southbound DE-896 only
Newark
Fifth Street
Current western terminus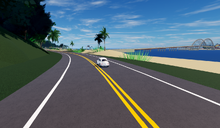 Trivia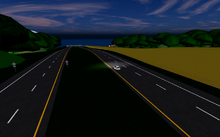 Comparison to real life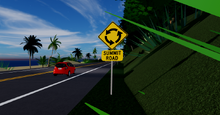 Important Notes
Warning: Do not block the causeway section as other players may be unable to pass you. If run out of fuel and break down on the causeway, refuel your vehicle immediately with the emergency gas can or notify authorities. If all else fails, delete the vehicle and respawn it. Intentionally stopping on the causeway (except for signals) blocks the flow of traffic and you may receive disciplinary action from official UDU moderators if caught.
Caution: If your vehicle breaks down on the drawbridge and leaves you stuck on the bridge, make sure all occupants leave the vehicle immediately and get off the bridge in case DOT raises it. Others can pass your vehicle on the drawbridge when open to traffic.
See Also
Slideshow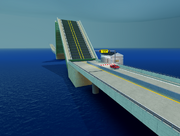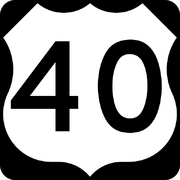 Community content is available under
CC-BY-SA
unless otherwise noted.